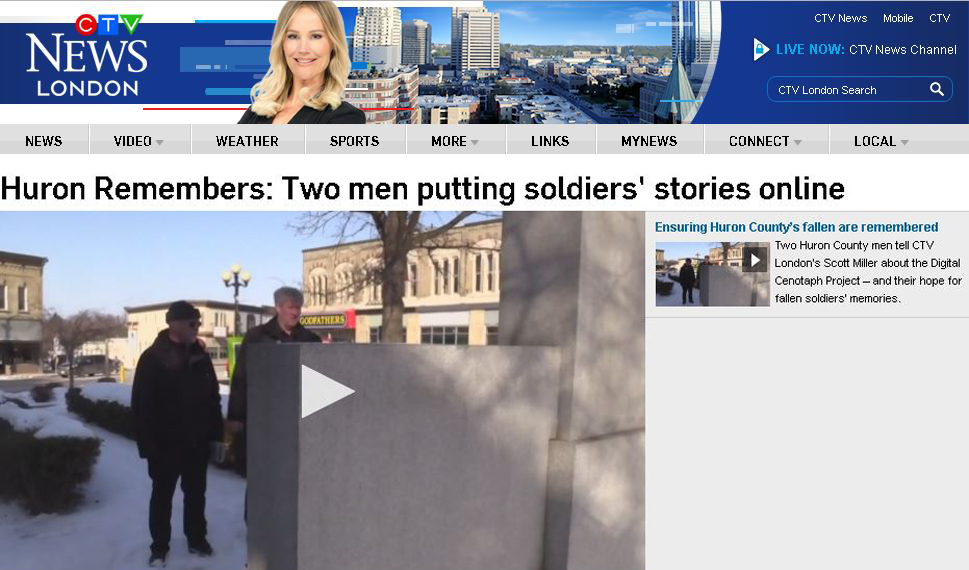 A unique and long term project recognized
- Jim Rutledge
Jim is a local historian who resides in Goderich, Ontario. Much of the last fourteen years has been dedicated to researching all of the 700+ men and women from Huron County who paid the supreme sacrifice during World Wars I and II. He has always been interested in the World Wars as his father was in Group 6 Bomber Command during World War II and a number of his close friends are veterans.
He has researched and published The Men of Huron (1939-1946). This project began in late 2005 and was published in mid-summer of 2009 and to date he has had three printings and is very close to a fourth printing. This book gives you the stories of 204 men.
Presently, he and his research assistant are researching The Heroes of Huron County (1914-1921). This book will cover 510 individuals - each person with their own story to tell.
These books when they are completed will honour and remember all of the men and women who called Huron County home or were born in the county and paid the supreme sacrifice.
Both Jim and Jeanette feel that this is the very least they can do and it is their way of thanking these men and women for all they gave us so we could live in peace, freedom and democracy.
- Jeanette Elliott
Jeanette Elliott joined Jim as co-author of the "Heroes of Huron County" book project on Huron county's WW1 fallen, in the autumn of 2009.  Born and raised in Blyth, she currently resides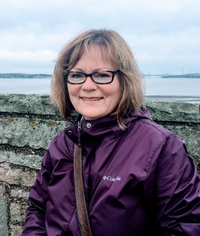 in Lucan, but will always consider herself a Huron County native.
Jeanette's passion for Canadian WW1 history was fueled by a trip to the Clinton Cemetery some years ago to do genealogy research.  A headstone marked the final resting place of her husband's great uncle Frank, and noted he was killed in 1917 at Passchendaele, Belgium.  This started a quest for more information, not only about Frank, but about many other family members from Huron County that served in WW1.  
After numerous trips to the Canadian battlefields and cemeteries in Belgium and France, countless hours spent at libraries, archives, museums and churches, and constant reading and collecting on the subject, Jeanette's interest in the Canadians in WW1 continues to grow.  Using a variety of resources and research techniques she hopes to gather as much information as she can about each man or women - both their military career and their life before enlisting – in order to bring their personal stories to light.    
Jeanette's background includes project management in financial services, customer service, and retail office management.  She holds a Certificate in Museum Studies from the Ontario Museum Association, and is currently employed as Collections Coordinator at Fanshawe Pioneer Village in London, Ontario.
Patrick is a local businessman who resides in Huron East and operates a media company with his wife Linda, from their office in Clinton, Ontario. The company has published books, magazines and develops websites for community groups and businesses.  Patrick's career has included various forms of public service, including service in the Canadian Army as a commissioned officer. He is passionate about telling the story of Canadian veterans, so the hard earned lessons of their sacrifice is not lost on our younger generations.  "Canada has an untold story that needs to be heard."
Patrick's involvement began when Jim Rutledge and Sid Bruinsma of the Dutch-Canadians Remember as One Committee asked for a website design ( www.dutch-canadiansremember.ca ) to attract interest from the Government of the Netherlands to gain support for a visit to Huron County by H.R.H.Princess Margriet. He joined the organizing committee and became the chief organizer to a very successful event in May, 2017, which honoured and remembered the 20 Huron County fallen during the campaign that liberated the Netherlands. After the event, Patrick approached Jim Rutledge and asked, "how can we honour and remember the over 700 Huron County fallen from both World Wars, Korea and the recent conflict in Afghanistan?"  Thus, the Huron Remembers committee was birthed to begin a long journey to develop a leading edge communications program that would reach out and reconnect our youth, to a proud tradition of Canadian service.